Webmasters, bloggers and editors of literary websites are usually behind the scenes operators, quietly refreshing web pages, writing and keeping the Literary Web humming with new content. AfricanWriter.com is conducting a series of occasional conversations with these cyber adventurers, literary bloggers, avid book reviewers, e-critics, website founders and funders. Geosi Gyasi of Geosi Reads is one of them.
——–
Geosi Gyasi, a young Ghanaian book lover, is also a poet whose work abounds online. He is the brain behind Geosi Reads, a web space where he features reviews of books, literary news and author interviews.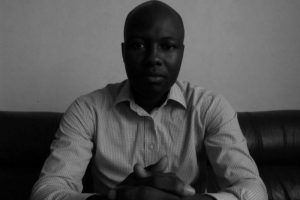 ——–
Sola Osofisan: I think it is safe to surmise that you became a blogger because of your book addiction (feel free to correct me if I'm wrong). But do you know what exactly the books you've read stirred in you that prompted the creation of your blog, Geosi Reads, as an appropriate response?
Geosi Gyasi: Of course, there is no other reason I can think of other than my love for books that sparked my interest in becoming a blogger. I had completed university at the time and thinking of what next to do with my life, stumbled on some Ghanaian book blogs that interested me. Then I began blogging. Books, in general, are meant to impart knowledge, and so I thought it ideal to start a blog to give my views on the books I read.
Sola Osofisan: We've published a couple of your poems on Africanwriter.com, and your poetry is also widely available on the Internet, but the web presence of Geosi Gyasi remains linked first to his behind the scenes life as a blogger on Geosi Reads, more than it is tied to his literary works? Are you comfortable being known as a blogger who also writes poetry, as opposed to a poet who blogs on the side?
Geosi Gyasi: Either way you look at it, the bottom line is that I'm both a blogger and poet. But the reason why Geosi Reads has a huge presence online than Geosi Gyasi, the poet, is fairly simple: I started blogging before writing seriously. I had always given my occupation as a blogger until I became a teacher who has assumed a new role as a librarian.
Sola Osofisan: When you started the blog, did you intend for it to become the busy project it has become?
Geosi Gyasi: I never anticipated it would get to the height it has gotten to. Perhaps Geosi Reads has been mainly successful because I took advantage of my first love of reading. These lines from Ama Ata Aidoo's short story, "Choosing," has always inspired me: 'In this life, there can only be two ways of searching for anything we want. We can begin from the places we know best, and search until we get to places we did not know even existed. Or we can begin searching from unknown places until we get to old and familiar places.'
Sola Osofisan: You're a keen interviewer, sometimes posting as much as 5 interviews per week online. As at the time of this interview, I counted 116 interviews on Geosi Reads and that was what really got me interested in talking to you. What sparks the interest in a subject and how does it concretize into the exchanges we read on your blog?
Geosi Gyasi: A number of things trigger an interest in a subject. I might begin an interview with a beautiful poem I may have read from a writer, or an award a writer may have won for a piece of work. I often strive to identify key subjects I know an author would be interested in responding to.
The interviews for this year are likely to increase to higher figures. There are a number of projects lined up for the year and I anticipate that this year should be a busy one.
Sola Osofisan: Your interviews are not limited by genre or geography. That's probably thanks to the Internet, right? Tell us how much the Internet has impacted your life.
Geosi Gyasi: A whole lot. I have often asked myself that without the internet, would I have started a blog? The internet has given me the permission to reach out to writers beyond borders. It has brought me much more closer to writers I never would have met in my life.
Sola Osofisan: As a younger man in another life, I once went unprepared to interview Chinweizu for a print magazine. It was the most harrowing hour of my interviewing life. It taught me never again to insult an interview subject by going unprepared. Have you ever done an interview that did not come out as well as you'd hoped?
Geosi Gyasi: The most dangerous thing (that can) happen to an interviewer is to go unprepared; that could certainly stir a major catastrophe and cost you your job. I had my own brief spell at the Time of the Writers Festival in Durban (2012), when I approached acclaimed Nigerian writer/poet, Chris Abani and asked him to spare me five minutes of his time for an interview. Unfortunately, I did not carry along a recorder with me. Instead, I was writing verbatim, at top speed, whatever he said. I ended up dwelling solely on one question. He drew my attention to the time I had asked for and later became disinterested in the interview. I cursed that day forever and swore never to go for an interview unprepared.
Sola Osofisan: Have you had an interview request turned down by someone you felt really had a lot to share with the world?
Geosi Gyasi: Yes – a number of them. But that was mostly at the beginning of my blogging career when I was trying to find my feet as a book blogger. That certainly has changed. I am proud to say that I've interviewed a number of renowned writers including Commonwealth Prize winners, Orange Prize winner, Caine Prize winner, James M. Vaughan Prize winner, Elliot Cades Award winner, Neil Postman Prize winner, Walt McDonald Prize winner, Gertrude Claytor Prize winner, Penguin Prize for African Writing winner, Brunel University African Poetry Prize winner, T.S. Eliot Prize winner, Pushcart Prize winner and a host of others.
Sola Osofisan: How about Geosi Gyasi…what have you gained and how have you changed over the years talking to so many writers? How have the conversations affected your own creative work?
Geosi Gyasi: Of course, I've gained enormous experience in the way I approach interviews. I've learned to do enough research before I send out my questions. Some of the questions I send out to writers are those that personally concern me as a writer. For instance, I often would ask writers how much money they make from writing and the best response has come from an American writer, David James, whom I interviewed last year. He told me: "In 40 years of writing and publishing, I can account for about $4,000 directly from poetry (or $100 per year).  Few people do this work for money.  One writes poetry out of a passion and urge and pleasure that can't be measured by conventional methods. On the other hand, I'd have to say my publication credits have helped me receive every academic position in my career, so it's paid off in that way."
Sola Osofisan: The images of Commonwealth Writers' Prize winner Benjamin Kwakye and 2003 Nobel Prize winner J.M. Coetzee are prominently displayed in the Favorite Authors column of your blog, while yours — with all the work you do — is buried in the About Me page, a self-effacing thing website managers sometimes do. Kwakye and Coetzee have obviously made notable contributions to African literature, but what do they say to you personally to make them worthy of the spotlight you try to beam on them?
Geosi Gyasi: Kwakye, in particular, has been a solid backbone to my career as a writer. It is much more humbling to have a writer of such stature advising you on all matters literary. For Coetzee, we're yet to meet.
Sola Osofisan: You did a multi-part interview with Benjamin Kwakye. Are you looking forward to an opportunity to sit down with J.M. Coetzee someday?
Geosi Gyasi: Absolutely! I just can't imagine what would happen that day. This question of yours proves to be the most important question I've ever been asked. I'll tell you why? It was Coetzee and his book Disgrace that took me to South Africa. I had completed university at the time and was doing my national service when I stumbled on Disgrace. After reading, I knew I had to contact Coetzee. Sometimes, it is not always about the story of a book that matters but the "style" in which it is written. Coetzee is a perfectionist in writing in the present tense. So I sold everything I owned at the time, took a visa, bought a ticket, in the hope of meeting Coetzee in any book event in South Africa. Unfortunately, that dream never came through but I ended up visiting actual places where Coetzee's Disgrace was set. The truth is that it was this literary craziness that took me to South Africa.
Sola Osofisan: You have a "targets" list called "Challenges" on Geosi Reads. It comprises books you intend to read and perhaps review…Does it help to maintain a list? Does it keep you pumped in some way?
Geosi Gyasi: It does help. It serves as a check on you as a book reviewer. But sometimes, other things distract one from strictly following targets. The major problem with the "Challenges" is that it is difficult to acquire books I want to read. Most of the books I've read were bought from used bookshops, which often entail several days of book hunting.
Sola Osofisan: Still on the fact that you come across a lot of books…What do you think of publishing in Africa? Is it true what has been said in some circles that we only see the good in African writers and literature through "Western Eyes"?
Geosi Gyasi: That could only be true because of perception. Currently, there are quite a good number of publishing companies doing well on the continent. But if what I saw in South Africa is anything to go by, then there is hope. I can foresee a more vibrant publishing industry on the continent.
Sola Osofisan: Between blogging, conducting interviews, reading and making a living like the rest of us, how do you find time to still be a writer?
Geosi Gyasi: I think passion supersedes all other reasons, but my new role as a librarian gives me some liberty to operate as a writer as much as I live with books.
Sola Osofisan: Did you ever struggle adapting to web publishing? What was technically the most challenging part of starting Geosi Reads?
Geosi Gyasi: Of course, there were many obstacles along the way. But the most challenging aspect of starting Geosi Reads was when very few visitors visited the blog. In that instance, you felt that you were alone and that nobody was reading your posts. But the situation has changed now.
Sola Osofisan: In so many words, convince whoever is reading this exchange that they need to start visiting Geosi Reads.
Geosi Gyasi: Geosi Reads is a literary platform that transcends borders. The motto of the blog has always been "A World of Literary Pieces". There's an array of book reviews, author interviews and literary news you'll surely enjoy. The only danger you risk following my blog is that my addiction to books is infectious.